Getting to know each other
We know meeting someone for the first time can be intimidating, and going to a new church for the first time can be nerve-racking. We want to help make your first experience at Legacy Church a good one!
SERVICE TIMES
Legacy Church meets every Sunday at 9:00 am & 10:30 | Legacy Kids is only available during the 10:30 gathering
LOCATION & DIRECTIONS
Legacy Church is located in Clovis, CA near the intersection of Shaw and Villa. Our address is 2171 Villa, Clovis CA 93612. The front of the building is on the east side (facing away from Villa) and there are parking spaces available for our guests and new friends near the front doors. To access our parking you can enter through the movie theater driveway (and turn left) or use the driveway just behind the Kentucky Fried Chicken (and turn right).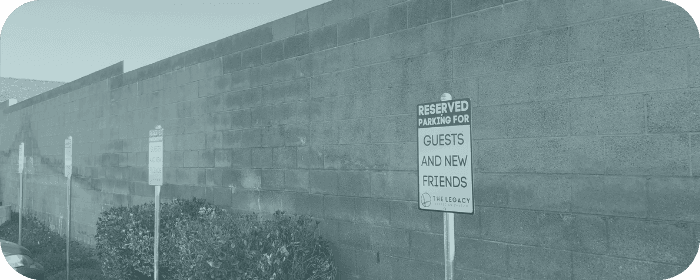 What can I expect?
How long is a Legacy CHURCH Gathering?
In total, a Legacy Church gathering is about 75 minutes in length. Gatherings begin with music about God, how we feel about Him, and how He feels about us. Song lyrics are projected onto large screens so you can sing along and/or engage with worship however you feel most comfortable. After the worship portion of the gathering, there will be a couple of announcements, then one of our leaders will come out to share an encouraging and hope-filled message about Jesus.
What's the culture like at Legacy Church?
We believe that church is not a place or a program but people. Legacy people are regular folks who are genuine, friendly, and personable. Our gatherings are casual and relaxed so come as you are and expect to feel welcomed as our guest.
What about my kids?
We believe that kids should have a blast at church every single week - and at Legacy Kids, we make this a priority. The other thing we make a priority is your children's safety. Because of that, we have a detailed check-in process for our Legacy Kids program the first time that you visit. You'll want to leave yourself an extra ten minutes to get your kids signed in before the 10:30 service. Legacy Kids is only offered at the 10:30 gatherings for children ages 6 months to 6th grade. We also believe it's important for kids to participate with their parents in worship, so Legacy Kids starts right after the worship portion of our gathering ends. After you check your children in you can expect them to stay with you through worship. Don't worry about them making noise or being kids. It's totally ok with us, we're used to it. All God's adult kids will be singing and making noise too so it's really no big deal.
Let us know you're coming
Ready to plan a visit to Legacy? We can't wait to meet you in person. Simply fill out the form below and we'll make sure to give you the VIP treatment upon your first visit.